So, I decided that with the new EA MMA game coming out, there's going to be a large mix of styles coming into this league. I'm gonna go over the type of hybrid styles that fights usually tend to be, and then I'll be looking for your response. There may even be some styles you've never heard of in here that may catch your attention.
First, let's go over some of the basics. Everyone knows about the sprawl and brawl technique. Our good friend Chuck Liddell invented that one by accident. Being a wrestler himself, he was able to dictate where the fight went. If he didn't want to go to the ground, he would make sure it was gonna stand. If he wanted you on your back, you were before you could say "tap." When first invited into the UFC, he was made an offer. Fight toe to toe, you'll get to stay in the UFC. If you take him down, you're out. Well, ol' Chukie found that this was an exciting sport, so he decided not to take his opponent down. We quickly found out that he didn't need to take down his opponents to win fights.
If a fighter likes to use the sprawl and brawl technique, that means that they are more of a striker. They like to keep things standing because they believe that they have knockout power, and they can deliver it. Granted, in this day and age, it doesn't really work all that well now, most fighters just go for the takedown. But if you like to strike, make sure to stay off your back. If this applies to you, then we know what to label you as. Sprawl and Brawl.
Now maybe you're the other way around. Maybe you're a classic Tito Ortiz. You just love that Ground and Pound. You take your foe down and make sure that the first thing he sees when he opens his eyes is either your fist or his own blood. Ground and pound is the opposite world of sprawl and brawl. You purposely take your opponent down just to inflict as much damage as possible. You use all your utensils. Fists, elbows, knees, kicks. Whatever you can think of to make your opponent feel as much pain as possible.
You must understand though. In order to use a style like this you need three things. Wrestling, to take your opponent down. Timing, so you don't get caught in a submission. And composure, so when times are looking rough, you can get out and get a new game plan. Being a ground and pound fighter also means that you can be a very entertaining fighter if you are up against a good match up. Otherwise, if this is all you have, you will fail.
Next type of fighting style we are gonna go over is your clinch fighting. Now, this doesn't have to do with just the Muay Thai clinch. This has to do with double under hooks, over/under hooks, single collar Thai clinch, and Muay Thai clinch. Now, you ask your Anderson Silva's, your Wanderlei Silva's, they will tell you the same thing. It's about controlling your opponent in the clinch. Make sure you can hurt them, and they can't hurt you. Just ask Rich Franklin or Quinton Jackson what the clinch can do. They'll tell ya.
Now do keep in mind. The clinch isn't just used for striking. Like I said, it's used for controlling. This means setting up different things. You can go for strikes if you like, but the clinch call also set up for takedowns and trows. You do have to be skilled in these take downs and throws, but it can set you up for it. The clinch can also get your opponent up against the cage (provided there is a cage to use) and lean on your opponent to wear them down. Make sure not to wear yourself out though, or you'll find your back up against the cage.
Alright so let's go over what we've covered real quick. You got your sprawl and brawl. Your Ground and pound. And your clinch fighting. So now we are at submission grappling. You want your opponent to the ground so you can submit them. Snap their arm or choke them out, whatever it takes to get them to submit. The type of fighting to best describe this as would be your Damian Maia. Someone that doesn't care how you get to the ground. Take down, throw, or even pulling guard.
Now keep in mind, if this is all that you have in mind, this is a bad strategy. It's great to have a good ground game. But it's not that great to have ONLY a good ground game. The best way to get your opponent to the ground is set up the take down with a few jabs, maybe a leg kick, and then go for it. The body can only react to one or two things at a time. Once you get your opponent to the ground, that's when you can start working. Remember, position before submission. If you start going for a arm, leg, or a choke, before you are in the right position, you will fail 90% of the time. You need timing and technique if you want to go with being a submission grappling fighter. But it can be done.
Most of you may be wondering. "Where is GSP and his lay n pray?" I honestly don't believe in lay n pray. Every fighter that you can name, GSP, Rashad Evans, Brock Lesnar, etc, all these fighters, as boring as they may look, are still working. They still work for submissions, they still add some ground and pound. Don't get mad at wrestlers. Get mad at the fact that your favorite fighters don't have that great of take down defense to defend one of these take downs.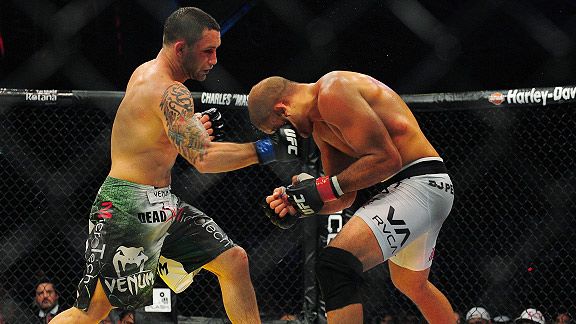 The last one that I will be discussing is a new one. This type of style was made recent by both Lyoto Machiada and the new UFC Lightweight Champion, Frankie Edgar. Their type of style of fighting is something I like to call "Dance and chance." Frankie has something over Lyoto that is obvious. Take downs. But the main reason behind this style is to move in and out of the pocket. Hit when necessary and win on points of cage control, aggression, and overall how many times you hit the opponent over him hitting you. Lyoto has done this for a while, and Frankie Edgar displayed this type of fighting in his title shot and title defense.
These fighters will get on the inside, hit you, and move away. Far away. They want you to follow them. They are more counter strikers then anything else. But for the fact that they do more moving then fighting, they are given the points for cage control. You have a better chance when you can wrestle, but that's besides the face.
Hope this helps you decide what kind of fighters you will all want to be. I know what kinda fighter I'll be. But that's a secret. Hope all of you that have read this article did enjoy it. Let me hear some feedback. Thanks for reading.
(If there are any spelling errors, my apologies. This is a article I just thought about writing, it's 11:20pm over here, and I have a sinus infection, so it's hard for me to see. So do forgive me.)